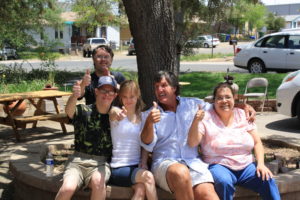 Founded in 1974 ago in the "Kelly Building" on the corner Willis and Granite streets in Prescott, YEI! opened its doors with only 12 employees.  Since then, YEI! has been providing job training, employment, volunteer placements, and support services for developmentally disabled adult residents within the Central Highlands. And, that is only the beginning! For more information about YEI
contact us here >>
Our staff of 45 full and part-time exceptional people assist over 150 individuals daily at three training and employment facilities.  YEI! continues to be known as a place where people with disabilities can find gainful employment and a sense of personal pride. Contact us to discuss the role YEI! could play in helping your business, ensuring a future for your challenged adult child, or remembering YEI! as part of your legacy.
We are proud to be recognized as a highly respected resource, garnering awards year after year for creating challenging work environments, as well as creating opportunities for our people to contribute to the community through volunteer services "Community Volunteer Corps."
The Tour Will Make Your Day!
Washington Avenue Industries
Step inside the doors of the Washington Avenue "General Headquarters" (WAI) and you'll see a bustling crafts and activity room, and a fully abundant greenhouse filled with color and foliage, and three distinct production areas serving production partners from Central Prescott.

Antelope Point @ Eastridge
Tour our newest facility, Antelope Point at EastRidge (AP@E) where you can reserve a meeting room, view our product showroom, and enjoy lunch with our guys and gals.

Ruger Airpark Industries
Discover Ruger Airpark Industries (RAI) at the west end of Prescott Airpark where you'll find our teams fulfilling orders and crafting up-to-the-minute manufacturing of quality patio furniture.
Arrange a visit of our
Men's and Women's homes
where you'll view an intimate, supportive, and nurturing family-style environment fostering security and independence. Both homes offer spectacular views of Prescott.
Washington Hills (Men's Residence, Prescott)
Rusing Hills (Women's Residence, Prescott)
Volunteer to help out at our annual Harold & Mitzi James Outdoor Learning Center at Mingus Springs, the most awaited event of the year at Yavapai Exceptional Industries! This three-day event offers a once-in-a lifetime experience to all who attend. Once they've attended, they can't wait until the following year. Each year becomes bigger and better with your support.